Round-tail Spiders sorted by nation, state, colour, fuel system etc www.veloce.se
The list shows the Round-tails I have traced so far. It is by no means complete. There is also a list showing the states in the USA with Spiders. Then I have a chart about the colours and the brake systems used by Alfa Romeo. From that list it appears as Dunlop was the standard for the majority of the Duetto while ATE came with the later cars and on tyhe 1750 mand 1300..
Our Duettos are all over the Globe. There are as of today Dec 18 2021 as many as 2.784 Duettos represented.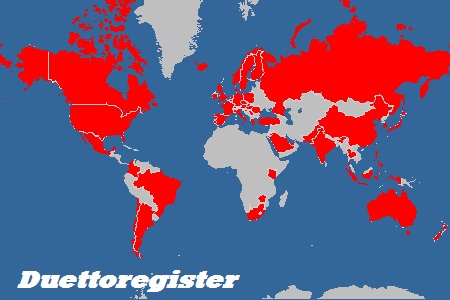 Weber and Spica were the major suppliers for the fuel system.
Please use the information with respect bearing in mind that I have spent a lot of time since 1995 with my register. If you have a Round-tail, please register. If you want a sticker for your Alfa Romeo Spider, tell me your postal address and you will get one free. Any comments you may have will be highly appreciated, just send an E-mail.or use the registration form
Enjoy Wille R.